ABOUT ME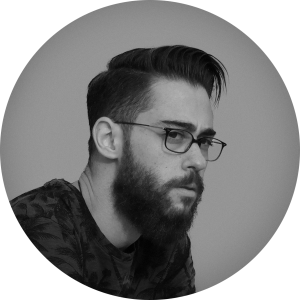 Hi!.. My name is Barlas Kontaş and I'm a sr. art director focused on branding & packaging from Istanbul, Turkey. I have a BA in Industrial Product Design from Marmara University, Faculty of Fine Arts. I have always had personal interests in graphic design, photography, photomanipulation, advertising and typography. I have worked as a conceptual industrial designer for a short while, then I decided to make a living of what I love doing and what think I do best, which is art direction. Since then I've worked as a designer/Sr. art director in advertising and design agencies for almost 5 years now. Now I'm a Sr. art director in Twinsadhouse. My main objectives are logo design, brand identity design, packaging design, photomanipulation and advertising.
I think design of any kind is a way of finding the best solution of a problem. The better solution is a better design. It's a strategic tool to gain trust, sell products etc. and I think a good designer should consider these motives during the process. A degree in Industrial Product Design has taught me well about this matter and what I'm happy to call myself most is that I'm a problem solver. To find solutions with different approaches to a problem or a design need, and comparing these to eachother for the clients benefit is what works and have worked the best so far.  The rest is the execution of software knowledge and art which I find myself pretty good at. I'm a pc/mac user and I use Adobe Photoshop, Illustrator, Indesign, Lightroom, Rhinoceros, Keyshot, Autocad and Mudbox for design visualization.

---
I'm a professional bowler since I was 12 and a member of the national bowling team of Turkey since 2005. I'm an international staff member of Hammer Bowling and Vise Inserts. I like playing guitar, listening to music, taking photos, hand lettering and building stuff with my hands (wood and leather craftsmanship mostly). That's pretty much all about me.